NHS Assessment Centre: Essential Tips & Preparation Guide
The NHS assessment centre is a crucial step in the recruitment process for anyone who wants to work for the NHS.
Make sure you are thoroughly prepared for your assessment day so you can go in with confidence, impress the recruiters, and land your dream job in the National Health Service.
In this free NHS assessment centre guide we will show you:
5 core values you need to demonstrate to work for the NHS
6 assessment centre exercises you can expect to take part in
3 must-know tips to succeed on the day and get a great result
Get our top recommended NHS practice tests and exercises here.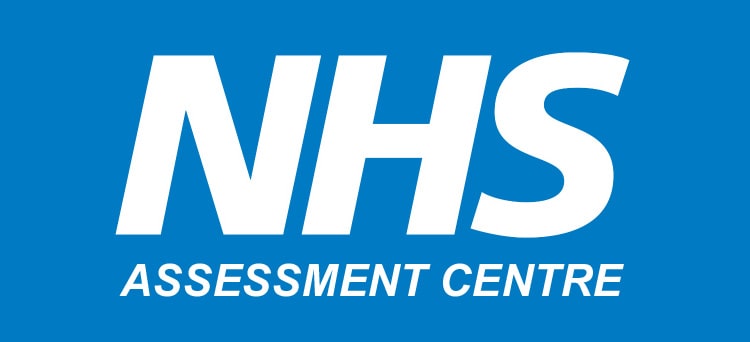 NHS assessment centre: The recruitment process
The National Health Service (NHS) is the UK's publicly-funded healthcare system. It currently employs more than 1.5 million people and takes on thousands of new graduates each year through a variety of graduate training programmes.
Careers in the NHS are highly sought-after and the recruitment process is lengthy and rigorous in order to hire the most talented candidates.
To work for the NHS you must align with its five core values: 
Put patients first
Take pride in what we do
Respect others
Strive to be the best
Act with integrity
Have a watch of this short video from some NHS staff about what it's like working for the NHS and how they demonstrate these values.
There are four main stages in the NHS recruitment process, and it's important to keep these values in mind at every stage:
Application
First, you must submit an online application to ensure you meet the entry requirements of the role. You'll need to provide your personal details, education, work experience and motivations for applying.
Psychometric Tests
Then you'll be invited to take a number of online psychometric tests which may include a combination of any or all of the following: numerical reasoning, verbal reasoning, logical reasoning, situational judgement and personality tests.
Interview
If you pass the testing stage, you'll go on to attend an interview with an NHS manager or senior staff member. It will last for about 30 minutes. Impress at the interview to move on to the final stage!
Assessment Centre
Finally, if your interview is successful, you will be invited to attend the NHS assessment centre. We'll cover more about this stage of the process in the rest of this article.
What to expect at the NHS assessment centre
The NHS assessment centre is a half or full-day event that is designed around the role you are applying for.
You'll take part in a number of exercises and activities on the day, both individually and together with other candidates.
These exercises can include:
Psychometric testing is common at various stages of the recruitment process. You may be required to take a numerical reasoning test, verbal reasoning test, logical reasoning test and/or situational judgement test in-person at the assessment centre.
In pairs or small groups, you must work together with other candidates to discuss a work-related topic or brief and come to an agreed conclusion. Check out our assessment centre group exercises guide for more information and tips to help you stand out!
You will need to role-play a clinical simulation or work-based scenario such as leading an MDT meeting or dealing with a difficult patient. Our role play exercises guide will take you through exactly what to expect and how to approach this task.
Presentation / Written Exercise
You'll be given a topic and some related information to read through and will need to prepare a presentation or written report of your conclusions. Both of these types of exercises are used to assess your research, analysis and communication skills.
In-tray / E-tray Exercise
This exercise requires you to manage, organise and prioritise a typical workload that is either paper-based (in-tray) or on a computer (e-tray). Read our in-tray exercises guide for more detailed information, examples and tips.
Some roles may also require another interview, either in the form of a panel interview or multiple mini-interviews. Make sure you're thoroughly familiar with our interview preparation guide as it will help you with every type!
Get full practice tests and exercises for your NHS assessment day here.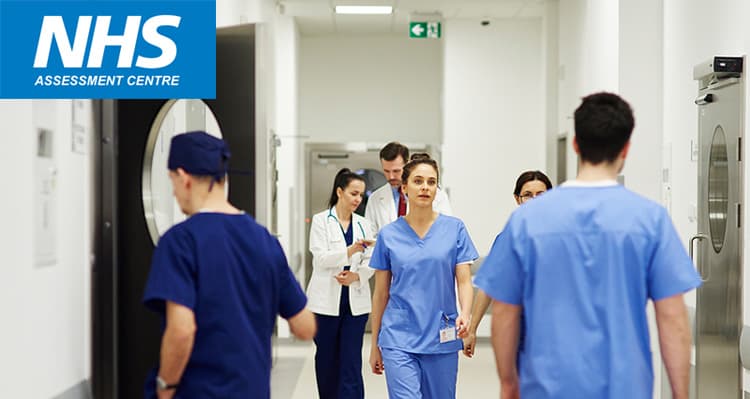 3 pro tips for NHS assessment centre success
#1: Do your research
How well you do on your NHS assessment day will be largely determined by how well you prepare.
So, it's crucial that you spend time thoroughly researching the organisation and role so that you come across as informed, knowledgeable and genuinely interested.
Make sure you have an understanding of the NHS as an organisation, its values and its place in the wider health industry, as well as the specific departments and specialities that are relevant to the job role you're applying for.
It's also a good idea to be across any recent industry news or media coverage that could come up in conversation.
#2: Practice makes perfect
It can be daunting to face numerous assessment centre tests and exercises, but putting in plenty of practice beforehand will improve your overall performance as well as your confidence on the day.
Make sure to check out these free, in-depth preparation guides for all the information, tips and advice you need to succeed at each one:
And get our recommended NHS practice tests and exercises here. These are designed to simulate the actual, current tests used by the NHS.
#3: Put yourself out there
Finally, the best thing you can do for yourself on assessment day is take advantage of the unique experience and truly make an effort.
Don't hide away in the corner –– introduce yourself to assessors and other candidates when you arrive and take every opportunity to speak to people throughout the day.
If you're naturally shy and introverted this will take some effort, but it's worth it. You'll make some great connections and build relationships in the industry that are invaluable, no matter what your final score is.
Good luck!
Some more guides to help you succeed…