​QTS Skills Test: The Ultimate Guide
Want to ace the QTS skills test? Our ultimate guide will have you assessment day-ready in no time! Keep reading for everything you need to know to pass the QTS professional skills test for teachers.
In this free QTS skills test guide we will show you:
2 key areas of the test to prepare for
Essential QTS skills test practice questions and examples
3 must-know tips to help you pass the test
You can find some of the best tailored QTS skills practice tests here.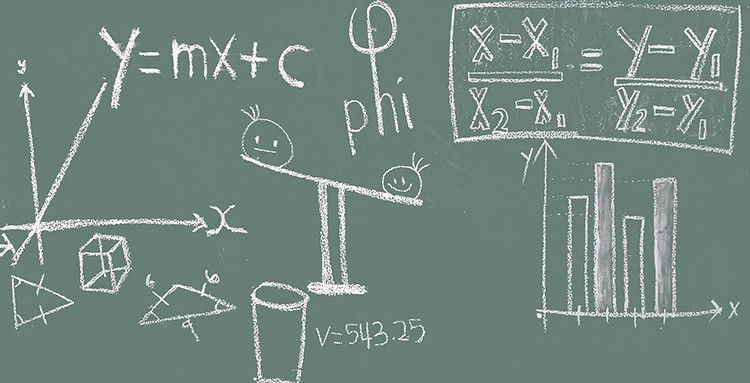 What is the QTS skills test?
If you want to train and work as a teacher in the United Kingdom, you need to pass the QTS (Qualified Teacher Status) professional skills test.
There are two parts to the test: a literacy skills test and a numeracy skills test. They are used to assess your general literacy and numeracy skills, which are essential competencies for all prospective teachers no matter your subject or specialisation.
You must pass both QTS professional skills tests before you can begin your initial teacher training.
Important Note: The QTS professional skills tests are not required for any teacher training courses starting from 1 April 2020. But if your course starts before that date, you'll need to pass the QTS skills tests for literacy and numeracy as a requirement for entry.
What to expect in your QTS skills test
The professional skills tests for literacy and numeracy are two standalone tests that you must book and sit separately.
They are both online tests that you'll need to take in-person at a QTS skills test centre near you. There are over 40 test centre locations around the UK, and you can download an up-to-date list of test centres from the Department of Education website here.
Numeracy skills test
The QTS skills numeracy test goes for 48 minutes. It's divided into two sections:
Mental arithmetic (12 questions)
Audio questions where you must work out the answer in your head, without a calculator.
You'll need to use a variety of numerical concepts including addition, subtraction, multiplication, division, fractions, decimals, percentages, time, distance, money, area, volume and conversions.
Written arithmetic and data (16 questions)
Written questions where you must use and interpret graphs, tables and other types of data. An on-screen calculator is provided.
Problems to solve can include fractions, ratios, time, measurements, conversions, money, averages, ranges and simple formulae.
Literacy skills test
The QTS skills literacy test goes for 45 minutes. It covers four key areas of literacy:
Spelling (10 questions)
Punctuation (15 questions)
Grammar (10-12 questions)
Comprehension (10-12 questions)
Check out our in-depth literacy skills test guide to find out more about this section of the test and how to pass it!
QTS skills test example questions
Let's take a look at some example questions from a past QTS skills test.
Your numeracy test will look something like this – why not practice answering the questions, or just familiarise yourself with the format!
Mental arithmetic example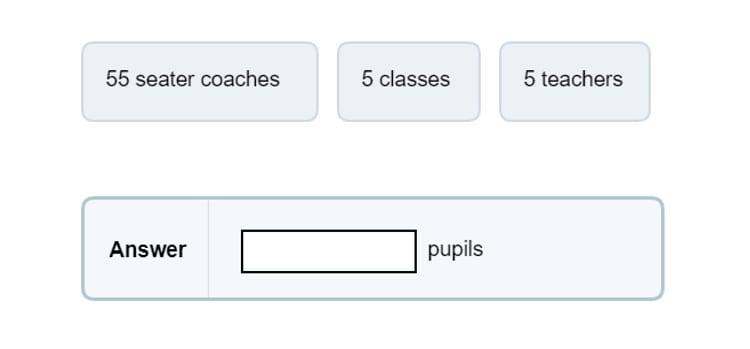 This will look confusing at first, but remember that these are audio questions. You'll hear the whole question through your headphones:
"Three fifty-five seater coaches are booked for a school trip. Five classes of twenty-six pupils, five teachers and eight parents are booked on the trip. How many more pupils could go on the trip?"
ANSWER
The correct answer is 22 pupils.
To work this out, first you would need to find out how many spaces are available in total:
3 (coaches) x 55 (seats) = 165 spaces.
Then work out how many people are currently already booked on to the trip:
Pupils 5 x 26 = 130, Teachers = 5 and Parents = 8. So the total is 130 + 5 + 8 = 143.
Which leaves 22 available spaces for pupils:
165 spaces – 143 people already booked = 22.
Each mental arithmetic question is individually timed, and will automatically move on to the next one when time is up. You cannot navigate through these questions yourself.
Written arithmetic and data example
A mathematics teacher used a box-and-whisker diagram to monitor the performance of his class in a series of tests. The box-and-whisker diagram shows the performance of the class in four successive tests.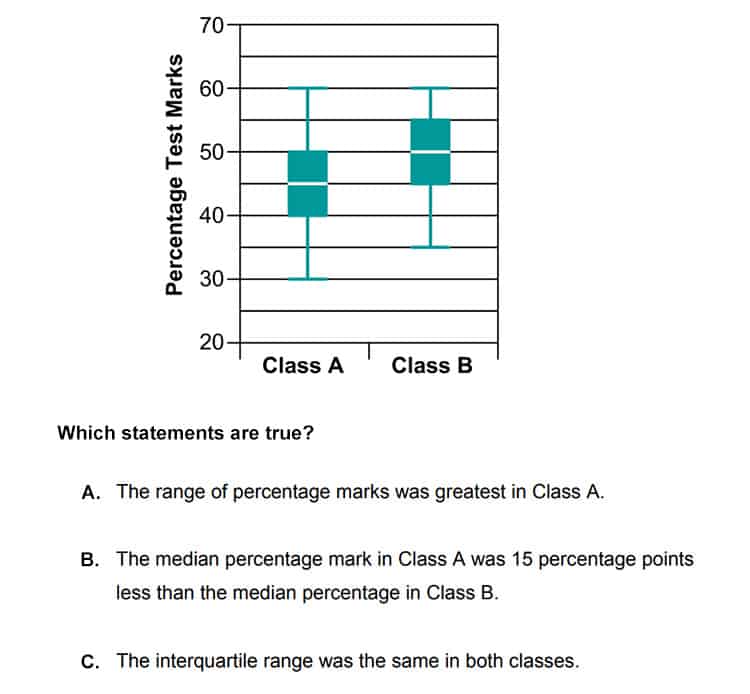 ANSWER
Statements A & C are both TRUE.
You can move through the written questions at your own pace, and can also go back to any that you still need to finish. Just remember to keep an eye on the time!
Want to practice some literacy test example questions too? Head over to our literacy skills test guide for a sneak peek at each section of the test!
You can also find our recommended QTS Professional Skills practice tests here.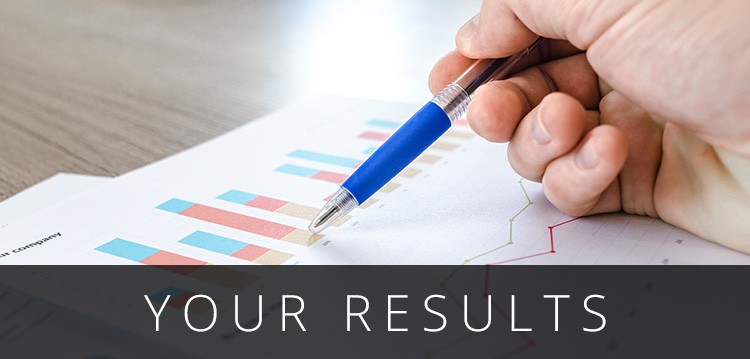 Understanding your QTS skills test results
The professional skills tests are automatically marked, and you'll receive a printout of your results for each test as soon as you've completed it.
You won't receive a formal QTS skills test certificate, so make sure you keep your printout safe.
The numeracy skills test is scored out of 28 and the literacy skills test is scored out of 45-49, with each question worth one mark.
The pass mark for the numeracy skills test is around 63%, which means you need to get a final score of 18 or more. 
The literacy skills test pass mark is around 60-65%, which means you need to score 29 or more. 
Your results will tell you whether you passed or failed, and which sections of the test were your weakest.
QTS skills test booking and resits
You can register for and book your professional skills tests here. You can also manage your booking from here, as well as view your test results.
If you don't pass the test, you can book a resit whenever you're ready – there's no limit to the number of times you can attempt the QTS skills tests. Your first three attempts are free of charge, and any resits after that will cost £19.25 each.
How to pass the QTS skills test: 3 pro tips
#1: Practice, practice, practice
There's no better way to improve your confidence, speed and score!
Focus on QTS skills practice tests that replicate the format and conditions of the real thing, like these numeracy practice tests and literacy practice tests from the Department of Education.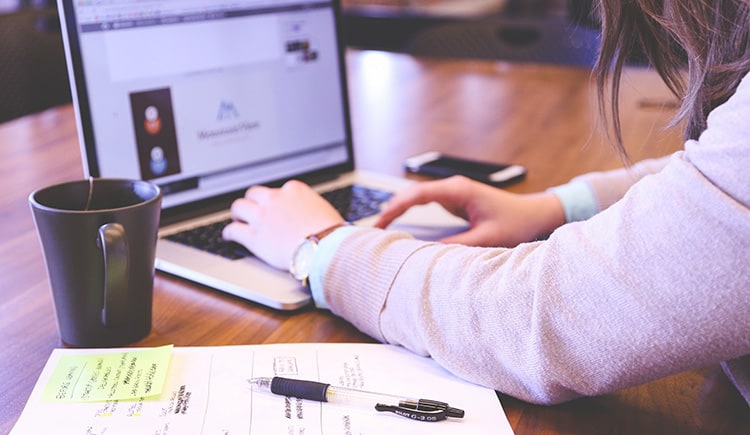 Start practising now with these QTS Professional Skills practice tests.
#2: Refresh your literacy and numeracy skills
Make a point of reading a little bit every day to improve your literacy skills. The Oxford University's Lexico website is also a great source to help you brush up on your spelling, grammar and punctuation.
To improve your numeracy skills (and your speed in answering the questions), make sure you're confident with your times tables and basic arithmetic.
Practice your multiplication with these online flashcards, and check out this YouTube playlist from HegartyMaths for a detailed breakdown of all the numerical concepts you need to know.
#3: Make notes as you read/hear the questions
This is really important to make sure you don't misread or misinterpret the question, especially when it comes to mental arithmetic questions which you'll only hear twice.
Jot down key points and numbers, and start working out the answer as soon you have the information you need.
And finally, good luck! You've got this.
Some more guides to help you succeed…