UKCAT/UCAT Test Guide: 4 Secrets to UKCAT Success 2023
Interested in medicine or dentistry? Then you need to be prepared for the UKCAT test (also now known as the UCAT test). Keep reading for pro tips, advice and strategies to help you prepare for (and pass) the UKCAT admissions exam.
In this free UKCAT test guide we will show you:
4 secrets to succeeding on the UKCAT/UCAT test
Practice example questions and simple steps on how to get these right
An easy-to-follow video tutorial
You can find some of the best tailored UKCAT practice tests here.
What is the UKCAT exam and what is it used for?
The UKCAT (United Kingdom Clinical Aptitude Test) or UCAT (University Clinical Aptitude Test) is the exam you need to pass if you want to study medicine or dentistry at most universities.
This is a test of aptitude and professional behaviour, not medical knowledge.
It's designed to assess a range of different skills necessary in the medical field, including:
Communication
Problem solving
Numeracy
Spatial awareness
Integrity
Empathy
Teamwork
The idea is that the higher your UKCAT score is, the better your potential to successfully train as a doctor or dentist.
Currently, 30 universities in the United Kingdom include the UKCAT as part of their selection process for medical and dentistry programs. You can find the full list on the official UKCAT website here.
Note: As of January 2019, UKCAT was officially changed to UCAT (University Clinical Aptitude Test). It is now used in Australia and New Zealand as well as the UK.
What to expect in a UKCAT/UCAT test
The UKCAT is a two-hour, computer-based test that must be taken in person at a Pearson Vue test centre.
The test is separated into five sections:
1. Verbal reasoning (44 questions, 22 minutes)
Assesses your ability to read, interpret and analyse written information.
Check out our verbal reasoning test guide for more about this type of assessment, practice questions, tips and solving strategies.
2. Decision making (29 questions, 32 minutes)
Determines your ability to decipher data and solve problems.
The questions in this section use a combination of text, charts, graphs, tables and diagrams.
3. Quantitative reasoning (36 questions, 25 minutes)
Measures your ability to use numbers and apply mathematical concepts.
Our numerical reasoning test guide has plenty more tips and information about how to pass math-based aptitude tests.
4. Abstract reasoning (55 questions, 14 minutes)
Gauges your spatial awareness and ability to identify rules and patterns.
Take a look at some example questions and find out more about what's involved with our abstract reasoning test guide.
5. Situational judgement (69 questions, 27 minutes)
Assesses non-academic qualities required to work in the medical field, such as professionalism, integrity, adaptability and teamwork.
We have a comprehensive guide to situational judgement tests, too.
UKCAT test preparation plan
Watch the UKCAT/UCAT guide from JobTestPrep and get a real feel of the actual test…
UKCAT/UCAT example test questions
Here are two example UKCAT questions to give you an idea of what to expect in your exam.
Decision making example question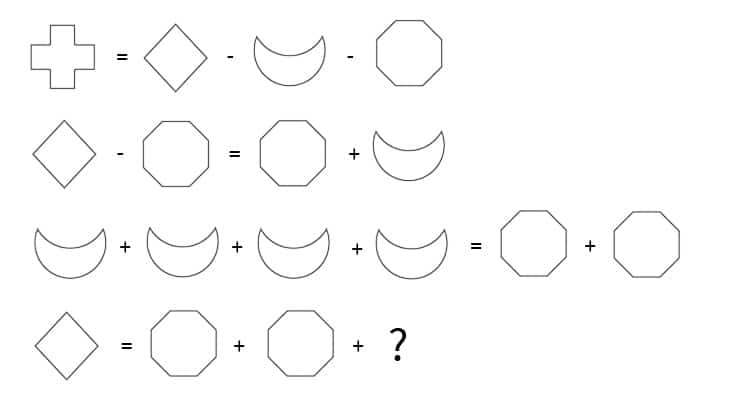 Which shape will make the last equation true?
A. Cross
B. Diamond
C. Crescent
D. Octagon
ANSWER
That makes the answer C. Crescent
To answer this question, you would need to replace the set of shape equations with variables. For example: cross = x, Diamond = y, Crescent = z, Octagon = w.
If you work out the equations correctly, you'd find that ? = z, which means a square will make the last equation true.
OK, let's move on to an abstract reasoning example question from JobTestPrep…
Abstract reasoning example question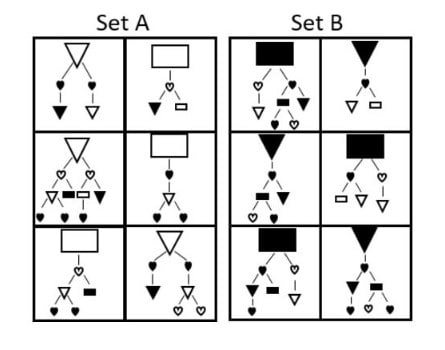 Which of the following test shapes belongs in set B?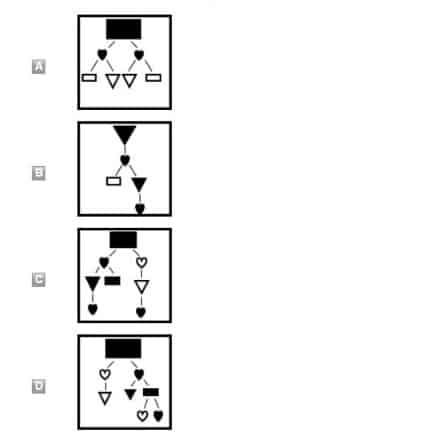 This question is best worked out with a process of elimination.
A is incorrect because the black rectangle must branch off to both a black heart and a white heart.
B is incorrect because the black heart must branch off to a rectangle and a triangle of the same colour.
C is incorrect because the white triangle should not branch off to anything.
How the UKCAT test is scored
The UKCAT is scored by section, with some differences between them:
● Verbal reasoning — scored from 300-900
● Decision making — scored from 300-900
● Quantitative reasoning — scored from 300-900
● Abstract reasoning — scored from 300-900
● Situational judgement — scored from Band 1-Band 4
You'll get your UKCAT score immediately after sitting the test, and the results will be forwarded to the relevant universities.
What UKCAT test score is needed for medicine and dentistry?
A good UKCAT score for medicine or dentistry is 650 and above.
Anything above 680 is considered to be a high score, and anything below 610 is considered to be a low score.
The average UKCAT score varies from year to year, but generally falls between 620 and 630.
If you score highly, make sure you apply to universities that put more emphasis on the UKCAT test results to improve your chances of being admitted.
At the same time, an average (or low) UKCAT score doesn't mean you can't get into medical school.
Not all universities emphasise UKCAT test results in their admissions criteria — consider applying to one of these instead.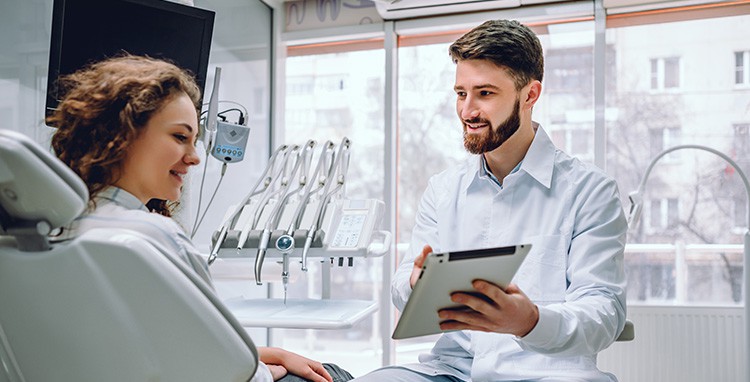 4 pro tips to prepare for and pass your UKCAT exam
#1: Get in early
To sit the UKCAT test, you'll need to register and book with one of the official Pearson Vue test centres.
Places are usually limited at your local centre, so it's a good idea to book an exam date as soon as possible to avoid missing out.
Check the official UKCAT website for up-to-date registration instructions and test dates.
#2: Give yourself plenty of time to prepare
If you're serious about doing well on the UKCAT test, we recommend that you start preparing at least four weeks before your test date.
There's a great UKCAT preparation plan here that backs us up.
It also says that people who scored highest on the UKCAT test spent about 25-30 hours preparing for it in total — an hour or so each day. So don't skimp on prep time!
#3: Take UKCAT practice tests
The UKCAT exam is held under strict time conditions and in a very specific format.
The only way to get yourself familiar with it is by taking UKCAT practice tests — as many as you can. Doing this will also show you if there are any areas of the test that you struggle with more than others, and that you might need to put more work into improving.
If you find that you need more help, there's always more intensive study options to look into like online or one-on-one tutoring and classroom coaching.
You can find our recommended UKCAT practice tests here.
#4: Familiarise yourself with (and use) the keyboard shortcuts
You can use specific keyboard shortcuts in the UKCAT test to help save time.
● alt+p — previous question
● alt+n — next question
● alt+f — flag the current question (to come back to later)
Make sure you're aware of these and you've practised using them, because they really do come in handy!
Some more guides to help you succeed…